Firehouse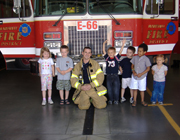 Marcus, my five-year-old son loves everything about firemen -- the uniforms, the trucks, the equipment, everything. So, I celebrated his fifth birthday with a Fireman themed party.

I arranged for Marcus and six of his friends to have a tour of the local firehouse. All the parents of the kids were almost as excited as their children were. My husband Tony and few other parents even volunteered to come help with supervising.

Marcus' and the six children piled into the van with my husband friends arrived at our house just after noon on the following Saturday. We all piled into our station wagon and my husband and I while the other parents followed in another car. I checked several times to make sure I had my camera and plenty of film.

Fire Chief Andrew met us at the front of the garage. All the boys got to wear fireman hats. He put rubber boots and a yellow slicker on Marcus and I took a picture of him posing with a unconnected hose. It came out so cute I put a framed copy on my desk at work. We took lots of pictures of the boys having a good time. We got to see everything--the trucks, the equipment, the uniforms. Marcus loved it. Pheobe, the Dalmatian was the sweetest dog. She wagged her tail and let the boys pet her. She seemed used to looking after kids. In fact, one of the boys started to crawl under one of the trucks when everyone was busy learning how to coil up a fire hose. Pheobe barked and whined to get Chief Andrew's attention and he stopped the boy before he got into trouble.

Chief Andrew took us up to the second floor and introduced the boys to the other firemen. They were playing cards, but put their hands aside to answer the boy's questions and let them slide down the pole. Just as Marcus was taking his turn the alarm rang. We stood out of the way while three of the firemen took off in one of the fire engines. Marcus was very impressed.

Chief Andrew brought the birthday cake I had left the day before, out of therefrigerator. We all had some cake and Marcus opened his presents. Marcus was really thrilled by the toy fire engine we gave him. It was so cute; the lights and siren really worked. He was in heaven.

After that since they had work to do we said goodbye and left. They boys didn't want to leave, but when we told them were were stopping for pizza on the way home they all ran to the van. The boys played firemen, back at our house, until their parents arrived.

He insisted on taking his fire engine to bed with him. I think he will remember this birthday for many years to come.
Related Categories
Back