Morocco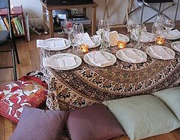 A couple of weeks ago my best friend Colleen and I met two of the nicest guys at a party and Colleen asked them if they would have dinner with us at our apartment. She's so amazing; I would never have the nerve to do that. It was more amazing that they said they would love to. Colleen had the great idea of creating a meal that would really impress them.

Colleen thought Moroccan food would be really exotic and impressive. I agreed, thinking she would just order in, but she had found some recipies on the internet and was bound and determined to re-create them in our kitchen. I told her she was crazy trying to cook at all much more for something she had never tried before, but Colleen just said she had picked some simple recipies and if she messed them up we would just go out. She was going to the store to get everything we needed so decorating was my job.

To be honest, this was the easy part. Our apartment is already decorated in a kind of hippie/middle-eastern style. I collected all of the pillows in the apartment put them on the floor around the coffee table. I covered the table with a north african print table that belonged to Colleen. I made a flower arrangement with some blooms I picked off the plants and bushes in the apartment courtyard. I put it in a crystal vase and set it in the center of the coffee table. I lit some incense and lots of candles.

When I was done decorating I helped Colleen in the kitchen. I chopped onions for the shish kabobs.
She also made eggplant salad. I never thought much of the vegetable, but I sneaked some and it was delicious. Last was the couscous which I garnished with wedges of onion, and green, red and yellow bell peppers.

When our Moroccan dinner was ready. We both got changed into eastern style clothing. I wore tried to look as exotic as possible. I wore an ankle length silk print skirt my brother gave me for Christmas, a cream colored blouse and a shawl. Colleen wore a authentic Moraccan dress her sister brought back when she visited Northern Africa last summer.

By the way Rick and Jonathan were dressed, I could tell they had expected we were all going out. As soon as they smelled the food and Colleen asked them to take off their jackets and shoes they were intrigued. Colleen put on the CD of Moroccan music she picked up at the music store and it really helped finish the creation of the right mood.

While Colleen was bringing out the first course I poured rose water on to their hands from a pitcher and handed them each a small white towel to dry them. The boys loved this Moroccan custom.

Colleen set down the bowl of eggplant salad and couscous. She set the platter of grain and vegetable garnishedd in the center of the table then, grabbed a pinch, rolled it into a ball and popped it into her mouth. I was as surprised as the boys on, but I smoothly followed her lead. It was fun to eat with our hands. Rick opened the bottle of French wine and poured it into each crystal goblet. When Jonathan started feeding Colleen, it was obviously they had a lot of chemistry. I tried to feed Rick a piece of bell pepper, but accidentally dropped it on his lap. I apollogized; feeling like a dope though he smiled at me all while I was telling him how sorry I was.

After we were done with the couscous, Colleen brought out the shish kabob. It was really good and all of us made pigs of ourselves by finishing every bite.

Dessert was diced honeydew melon skewered on toothpicks. Colleen put the platter in the middle of the table so everyone could help themselves. After that was baklivah--honey flavored pastries and mint tea. Jonathan wasn't much of a tea drinker so he put some peppermint liquor into his. Everybody had a taste and it was so great each put some in our tea.

Throughout the meal, there was never a lapse in the conversation because we all were either talking about the food or or eating it. After the meal, I poured water on their hands again.

By the end of dinner, we all chatted comfortably for a couple of hours. I felt like I really connected with Rick. He seemed really sweet and was so adorable I'd love to see him again.

At midnight the boys reluctantly left. Maybe my mother was right when she said that the way to a man's heart is through his stomach. Colleen and I think they will definitely be back.
Related Categories
Back