Tall Ship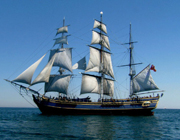 A couple weeks before Father's Day, I saw an ad in the newspaper about a tall ship dinner cruise. My father loves old ships and I thought it would be a fun different way to celebrate Father's Day.

I didn't tell dad what I had planned. I only said to dress casual and we were going to a restaurant that was on the water. He was very surprised when I drove into the marina. We could see the masts of the tall ships from the parking lot.

Some of the other guests were already on board and chatting with the crew who were dressed in 18th century sailor costumes. We learned the vessel was an authentic reproduction from original plans of an 18th century vessel. The ship was amazing and it even had real ten-pound cannons that would be fired in the mock battle both ships would be performing after dinner. It sounded very exciting; we could hardly wait.

The captain and guests were seated around the table in the captain's quarters and passed each dish just like a family dinner. The cozy and informal atmosphere seemed like we were guests in a home rather than a ship. Bread, green salad, beef roast or Cornish game hens, potatoes, mixed vegetables were served. Dessert was apple or cherry pie a la mode.

After dinner we went back up on deck. It was about seven o' clock when our ship got under way. The ship used its motor until it was out of the marina then the crew unfurled the sails and turned off the motor. The other ship followed, not far behind. Once they were both in open water the maneuvering and cannon fire started. It was hard to tell who, if anyone, was winning as the cannons fired only blanks. Only when our crew let out a cheer did we know for sure they had won. Though it still was a good show.

The musically talented members of the crew performed sea shanties as our ship headed back to the marina. The crew even taught us a few songs. We really had a great time. My dad was the last one off the boat at the end of the evening and I think he really wanted to stay. He told me he really enjoyed himself and it was the best Father's Day ever.

Related Categories
Back