Western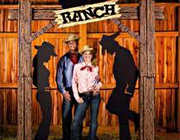 My neighbor is a country girl at heart, so for her 50th birthday, her husband threw a Western themed party that was fun for the whole family. They turned their house into a saloon and invited the whole neighborhood to join in the celebration.

The invitation was printed on red and white checkered card stock and accentuated with a small denim bow at the top. The particulars included a request for Western style dress and a hearty appetite. I remembered I had a white cowboy hat with brown feathers and went searching for it in the attic. I was happy to find it, and after dusting it off put it on my head and immediately started talking with a southern drawl. My husband told me I'd have to keep the hat out, even after the party. This was going to be fun!

My two boys wanted to dress to the nines, so we bought them cowboy hats, belts with holsters, and sheriff badges, at a party store, They wore jeans and denim button down shirts and I found some inexpensive boots at a discount shoe store. I reluctantly agreed to buy them toy guns, but only for use during the party. We have a lawful image to uphold they said. My husband looked hunky in his jeans, boots and hat. And I wore cowboy boots with a short denim skirt and white button down shirt along with my cowboy hat.

Our neighbors did a great job decorating for the party. Above their front door was a sign that said "Howdy Cowboys and Cowgirls." At the front door and just inside, at the entryway, they had sawdust on the floor. (There was more sawdust in the backyard, covering the ground under the patio cover.) Potted cactuses were placed all around the house and several horses on sticks, the kinds young children like to ride on, were propped up in corners. Western music played throughout the house and backyard, getting everyone in the mood for some line dancing. There was even a rented mechanical bull in the backyard! Both the kids and adults lined up to give it a try.

Card tables with dealers were inside the house, poker the game. All the adults were given a burlap sack of large fake gold coins to gamble with. A sign hung from the ceiling above the tables that said "Card Sharks." Placed sporadically throughout the house and backyard were tall small round tables with barstools for sitting. And a woman dressed just like a saloon girl, feathers and all, was walking around with a basket handing out bandanas, bubble gum cigars and cigarettes, and toy water guns, to all of the guests.

The food that was served was delicious. Texan cuisine was offered and included chili (that was made by the host), and catered barbeque and Tex-Mex dishes. There were tacos and nachos for the kids and tri-tip and chicken for the adults. Baked beans, corn-on-the-cob, quesadillas and home made coleslaw rounded out the fare. Sodas, juices, water and beer were in large round wooden barrels for guests to help themselves to. For dessert, there were cinnamon churros, deep fried ice cream, and a huge chocolate cake in the shape of a boot.

After eating, a dance teacher gathered everyone on the patio for some Western dance lessons. We did some square dancing and two-stepping and really had a good time. The instructor stuck around for the duration of the party, offering help to anyone who needed it. The kids especially liked the dancing and the easy tempo of the country music.

When everyone tired of dancing and needed a break, we played Pin the Tail on the Donkey. Yes, even the adults played. With a bandana as a blinder, each guest was spun and pointed in the direction of a huge donkey poster hanging on the back of the house. It had been a long time since I played the game and my pinning indicated that – I missed by a couple of feet. My older son, however, was right on, and tied with another guest (their tails were one on top of the other). They each received a miniature cowboy hat filled with trail mix that was wrapped in cellophane and tied with a ribbon. One last game was offered next: a roping contest. A lasso was made by tying a rope into a slipknot and guests took turns trying to lasso the horns of the mechanical bull. It is a lot harder than it looks and very few of us were successful. It was great fun trying and everyone had a lot of laughs.

Laughing is what I remember most about the birthday party. Not only did my family laugh a lot and have a great time, but the guest of honor was always smiling and giggling and really enjoying her 50th birthday. It was a great family celebration that the neighborhood will never forget.
Related Categories
Back