Treasure Hunt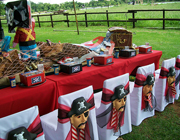 My daughter, Monica is really into Pirates and maps to buried treasure so we celebrated her eigth birthday that theme. It was so much fun.

We made the invitations on tan colored paper to look like treasure maps with dotted lines from each girl's house to an X that indicated our house with an X marks the spot at our house. Monica's dad, Dan, wrote in calligraphy, "Ye who recieves this map is invited to Monica's birthday party." He included the party details such as: Address, date and time. Dan burned the edges to make the invitations look more authentic. They looked amazing. Each was put into an envelope for Monica to give to each girl at school the next day.

The house was decorated with gold and black crepe paper. I was able to get some rented treasure chests from a stage prop warehouse. The chests were too big to fill so I used cardboard to make false bottoms and filled the remaining space with gold foil covered chocolate coins. I made a table cloth out of a few yards of deep red velveteen I bought at the fabric store. I later made it into a dress.

We put candle stick holders metal cups and old-fashioned candle lanterns on the table and scattered a few of the gold chocolates across it. I used my own china and silverware. I used fake spiderweb left over from Halloween over the lights to make the place look more spooky.
The final touch was a reproduction of a old painting in a baroque frame I picked up at the stage prop warehouse. It hung on the wall behind the table's head.

As each girl, arrived they were given a list of items they had to find. The girl who found the most items would get a prize. The girls searched all over the house and yard looking for the thing on their list. Some were easy, but others were very tricky. It took them close to two hours to find everything. I took pictures of the hunt and sent them to the parents afterwards. Two of the girls found everything on their list so they split the prize, which was a velvet bag full of plastic pearl necklaces, toy rings and some candy which they were not allowed to eat until after dinner.

After the treasure hunt was over the girls sat down for fish and chips with their choice of soda or juice. The birthday cake was decorated to look like a pirate ship with a caricature of Monica as a pirate captain. It was very cute, but also delicious.

Monica opened her presents and couldn't contain her excitement when she found she had gotten everything she asked for. After all the presents were opened we took the girls to the patio where we had set up a pile of strips of newspapers and five trays with large brushes to dip in the glue mixed with water. Each girl was given a balloons to make papier mache animals out of. The blowfish, an octopus were really original, but Alicia didn't use a balloon for her ship. It had three masts and turned out beautifully.

After they were finished, the girls washed up and went home. The next day, Alicia came back over to paint her ship, which she gave to Monica. I put it on a shelf in the dining room curio so we would always remember Monica's party.
Related Categories
Back