Fairytale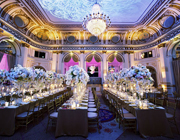 My friend Rose's wedding to John was pheonominal.

Two months before the wedding I received an invitation. On the cover was an embossed castle with iridescent foil on the roof with a prince and princess, walking toward it, hand in hand.The artwork was beautiful. Inside was the details of the location, day and time.

When I showed up at the church people were already being seated and some of the ushers were handing out little packages wrapped in pink tissue paper. I took one and sat on Rose's side beside, Alice, a mutual friend. The pews were decorated with pale pink and gold ribbons bows, and garlands of pink and yellow roses. The altar was decorated by an arch covered in vines of golden ivy and pink roses.

John wore a dark blue morning coat with gold buttons and gold epaulettes. He wore a gold tapestry vest and white pants with a strip of gold braid down the side. His dark hair was slicked back and he looked just like Prince Charming.

All of the ushers also wore dark blue morning coats, but without all the fancy gold trim John's had and wore gold cumber bunds with white pants. The bridesmaids wore lovely pastel pink dresses with short cap sleeves of pink chiffon and full A-line skirts. The ushers escorted the bridesmaids down the aisle then took their places behind the groom.

An adorable little boy wearing a white tuxedo carried a rose shaped ring pillow made out of pink satin. Behind him a little girl in a white dress with a pink bow, threw freeze dried rose petals out of a little pink basket decorated with white satin bows and pearls.

Rose's gown was gorgeous. It had chiffon, poet sleeves and the neckline and waistline were embellished with iridescent beads. The full, A-line skirt and train made her look just like Cindarella. Her blond hair was elaborately piled on top of her head and a stunning tiara set with dazzling aurora borealis crystal sat on her brow. Her father wore a dark blue morning coat trimmed with gold braid like John's, a gold cumber bund and white pants.

The ceremony was brief, but instead of lighting a unity candle, John and Rose exchanged a pair of sculptured glass roses as a symbol of their love. After that they placed gold wedding rings on each other's fingers.

Once the wedding party had made their reccession the wedding guests assembled outside and the couple released hundreds of Butterfiles guests tossed special SHOP1:designer rice at the bride and groom. Rose later told me, this were the only thing the church would allow the guests to throw because it would not injure birds or cause people to slip. Each heart was made of bits of rice mixed with water-soluble glue and would be crushed if stepped on or would dissolve in water.

The reception hall was beautifully decorated. On the wall behind the head table was a framed picture of a castle and royal couple like the one on the invitation. The windows were framed by curtains of pink and gold chiffon and bouquets of pink and gold balloons everywhere. An automatic bubble blower in each corner of the room filled the air with iridescent spheres.

The tables were arranged around the dance floor. Each table was covered with beautiful gold damask tablecloths with a pink drape over it. On every table were centerpieces made with glass bowls filled with water. The bottoms were covered with iridescent pink and gold marbles and rose shaped candles floated on the surface. The places were set with lovely iridescent pink and gold glass plates and matching glasses. The gold utensils were lined up on pink cloth napkins. The name of each guest was secured with place card holders that looked like miniature glass slippers. On top of each plate were porcelain keepsake boxes shaped like Cindarella's pumpkin coach. They were all filled with chocolate mints shaped like roses and hearts.

A string quartet playing classical music for dancing. A wedding photographer took pictures of the guests enjoying themselves. A table was set up with trays of appetizers. There was sliced apples, pears and vegetables, spinich dip with pieces of bread to dip, chocolate truffles, pastries with meat and cheese inside and cubed cheese. Everyone grabbed a plate and started snacking. The wedding cake was displayed at the end of the appetizer buffet. It was decorated like a fairy tale castle and was five layers high. On the top of the first layer, a beautiful porcelain figurine of Prince Charming and Cindarella walking arm in arm toward the front door.

The string quartet played a lively tune when the happy couple made their grand entrance. The bride and groom followed by the wedding party and made their way to the head table. It was decorated in pinks and gold like the other tables, but the centerpiece was a beautiful, large, iridescent glass rose with gold accents set in front of the places of the bride and groom.

After the salad was served the waiters filled everyone's glasses with Champagne and the best man and maid of honor gave their toasts. I started to get the giggles and the person next to me couldn't help herself either. We were trying very hard not to burst out laughing!

The main course was a choice of honey glazed chicken or roast beef. It was served with sliced carrots, mashed or roasted potatoes or green beans almondine. I had the roast beef and a few glasses of Merlot. Everything was delicious!

After the main course a Irish band set up and began playing traditional Irish jigs and reels. Rose and John began teaching everyone some Irish dances. The music was really lively and everyone had a great time whether they danced or watched. A photographer took pictures of everyone having a good time.

When Rose tossed her bouquet and Joanie caught. Everyone thought the way she shoved a couple of girls aside to get it was really hilarious. John took off Rose's garter belt and tossed it at the single men. It totally missed the group of bachelors and landed at Rose's Uncle Bob's feet. Many people were laughing, except for Bob's wife!

After more dancing the wedding cake was cut. The white cake went perfectly with the strawberry mousse filling. It was so delectable! I liked it so much cake I even had a second piece.

Rose and John said their thank-yous and good-byes and departed in a white Limousine for their TRAV1:honeymoon]. The rest of us danced and chatted while the band played beautiful Irish music. The whole night was just like a fairy tale.
Related Categories
Back