20s Flapper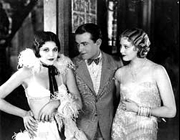 My company wanted to do something different for our corporate picnic so they chose a 20's theme. At first, I was a littel skeptical about it how much fun it would be, but as the plans started coming together I became more and more excited. I was glad I already had a costume--a flapper dress I wore last halloween.

I arrived at the hotel banquet hall and felt like I took a step back into time. Everyone looked so elegant in their 20's style clothing-- complete with hats and hair-dos. I hardly recognized Sam in his three piece tux and tails. He always wore such frumpy outfits to work, never noticed how handsome he is. I couldn't resist dancing with him when he asked.

The room was decorated in classic style of cream and golden, from the golden chandeliers to the blonde, parquet wood dance floor. There was an old-fashioned, dark, wood bar against the far corner, serving everything from Vodka to soda. The bartender was Alex, the head of research. He poured me a crystal flute of champagne.

There were round tables arranged around the edge of the dance floor, with cream colored white tablecloths and gold edged china at each place setting. A small, six piece band was playing a waltz and there were several couples dancing. Then they played the Charleston and afterward we all formed a congo line. We did the one step, the Turkey Trot and lots of other fun dances. It was extraordinary!

I talked with my friends while we soaked up the atmosphere. Barbara's daughter was facinated by the old-time clown making balloon animals for the kids. The clown even taught her how to make a balloon poodle.

For dinner there was a choice of chicken, steak, or a vegetarian stir-fry for. The chicken I chose the chicken, was wonderful. It was grilled in a ginger sauce and served with potatoes au gratin and honey grilled carrots. It was nice to attend a corporate picnic with such good food and a free bar!

Later we played Charades using people, places and things of the 20's. It was hard, but a lot of fun. On my turn I did an impression Charlie Chaplin, which was easier than I expected. I just walked around in a circle as if I was carrying a cane and played with my imaginary mustache. Three people yelled it out!

There was an old-fashioned photographer who fooled us into believing our photo was being taken by an old camera by putting his head under a black cloth behind an old-fashioned camera. Then he asked us to turn around to face his real camera and pose.

A week later John, in the accounting department passed out the video of the party he had recorded and edited together.I watch it every once in a while to remember what a great time I had!
Related Categories
Back