Toga Party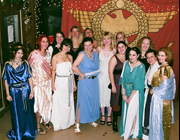 Party can be a taken off the film "Animal House" or a Roman orgy
Event Types
Graduation, Anniversary, Bar/bat mitzvah, Birthday Party,
Age Groups
Adults, Teens, Students, Singles, mixer, Couples
Setup
Should be a large area like a roman forum. Large back yard.
Decor
Greek theme Décor, Roman Pillars, Hanging grapevines, Signs: "E pluribus Unum" or "Our Own Plato's Republic";  All white tablecloths (linens & chair covers) Clumps of grapes on tables; Use wine goblets for drinks.
Dress code
Everyone wears a toga (bed sheet). Wear bathing suits under togas.
Music
Italian music - opera or classical (chamber music & classical bands. Play Music from the "Animal House" movie. Such as "Shout", "Louis Louis", & Hey Paula"
Food/Drinks
Eat all items by hand: finger foods, turkey legs, cheese, grapes, bread, veggie trays, Greek lettuce & tomatoes. Sparkling grape juice or other mixed fruit drinks (alcohol optional).
Tips
Use an orator to make speeches, toasts, take group votes (shouts w/thumbs up or down), Who are the masters/ slaves for tonight?, Do Sports and games in back yard, i.e. Marathon runs with torches, races, tug-of war with dogs ("Lions"); Who is the first to go to the lion's den?; Give out diplomas to guest: "I survived the party but all I ended up with was this rag" (torn toga)
Related Categories
Back