Tarzan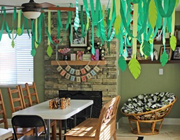 My husband, Jack owns a lawn mower repair shop and works long hours six days a week, fifty weeks a year. So for his 50th birthday I wanted to give him a party that would let him feel young, wild, free again so I planned a Tarzan theme for the party.

The invitations looked like they were printed on bark paper. The font looked like the letters had been carved into the wood. Inside were the party details of location, date, and time. I also added the guests should dress like jungle people.

I reserved the hall at the local Recreation Center. I rented some jungle gym equipment for the guests to climb on. For safety, it was set up on rubber mats. I surrounded the jungle gym with artificial trees and plants. To complete the mood I put CD of African music on the stereo on repeat.

Many of the guests arrived dressed in faux leopard and tiger skins. Other costumes were more creative and authentic. Of course, I was dressed as Jane and Jack was Tarzan. Each guest recieved a plush toy monkey. They were very cute and had Velcro hands and feet and a little backpack to carry it around in. The guests had a good time playing with them especially Nick, my best friend Alice's husband. Nick kept on sticking his plush toy monkey on the back Alice's faux leopard dress. She stuck it back on him when he wasn't looking.

It wasn't long before Tarzan, my husband, was climbing to the top of the jungle gym. It was llike he had tapped a new well of energy! He was even gave a funny Tarzan yell. I was glad I hired a photographer to capture the best and funniest moments.

The guests went so crazy for the jungle gym they kept right on playing even though the caterer was setting up the buffet dinner. It was so fun seeing them acting like kids.
Tarzan and his tribe eventuallyworked up enough of an appetite they climbed off of the jungle gym and started lining up at the buffet table. There was mixed salad with crispy vegetables and a light, fruity dressing, fruit salad, vegetable soup, served plastic bowls that looked like hollowed out coconut shells, baked fish, and rice pilaf. There was also a few bottles of white wine. Dessert, was delicious: Strawberries and cream.

Some of the men really got into touch with their primitive side. Nick put one of the coconut bowls on his head. Tarzan put two coconut bowls together in front of my chest, "Jane like new bra?" he said. The photographer was really sharp and snapped a picture.

After dinner an exotic animal handler entertained us. He had tarantulas, a boa, geckos, an iguana, and a spider monkey! Some of our more adventurous guests touched and even held some of them. One of the monkeys climbed onto Nick's head before the handler could catch it.

After the exotic animal handler left, my husband opened his gifts then went back to climbing the jungle gym some more.

Before the party came to a close, everyone gathered around for a game of Barrel of Monkeys. The game turned into a tournament and the winner recieved a gift certificate for an organic market.

The party was a wonderful success, but most importantly, my husband had more fun at his fiftieth birthday than he had in a long time. He forgot about work and remembered what it was like young and free again.
Related Categories
Back