Paris Bistro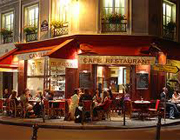 My girlfriend has long had a desire to go to Paris, France. Since I can't afford to take her to the European city for real, I decided last Valentine's Day to bring Paris to her. It was a romantic and unforgettable evening that we will always remember.

I told my girlfriend I had made reservations at a special restaurant and asked her to be ready at 7 o'clock. When I got to her place, she was dressed in a pretty lavender dress with a striped scarf tied around her neck – very Parisian. I got nervous for a minute, thinking she knew of my plan and wanting to dress the part, but then I realized there was no way she could have known. I hadn't told anyone. Just serendipity, I told myself. I blindfolded my sweetheart for the car ride, telling her I wanted it to be a surprise. We don't live far from one another so I drove around for an extra 20 minutes, hoping to fool her into thinking we had traveled farther away.

We arrived at my apartment and I helped take Kelly's blindfold off. I quickly produced a small wrapped box for her to open. Inside was a small toy airplane with a gift tag that told her we were traveling to a destination where our imagination would be required. She was intrigued and excitedly exited the car. We walked hand in hand to my front door and I asked her to close her eyes and imagine the faraway spot she would most like to be. Where are you thinking? I whispered. When she answered Paris, I slowly kissed her lips and then smiled while looking deep into her eyes.

I opened the door and we entered another world. I had spent the entire day decorating my place to resemble a small bistro on the streets of Paris. Having never been there myself, I did the best I could and knew from the look on Kelly's face that I had succeeded. The walls were covered with posters of sites in Paris – the Eiffel Tower, Pantheon, Notre-Dame, famous bridges, museums and parks. Postcards of Paris littered my coffee table and side tables. On the backs I wrote Happy Valentine's Day, I love you, Hugs and Kisses, and other terms of endearment. An easel stood in the corner with a black chalkboard listing the menu for the evening. A small round iron table with two matching iron chairs stood in the middle of the room. A tall glass vase with flowers and a striped French neckerchief tied around the neck, was at the center of the table. Several small tea lights surrounded the vase. Other candles were lit around the room to give it a glow. Two large ficus trees with tiny white lights were on either side of the table. And the best part, a small French man wearing a pastry hat and apron stood by the table ready to serve us.

We sat down to a delicious meal. We ate small crepes with tomato and mozzarella, vegetable quiche, and a mouth-watering soufflé. We sipped wine and took our time eating. Kelly was overjoyed with the sentiment and didn't want it to end. When we did finish dinner, the waiter quickly cleaned up while we sat and talked, our feet intertwined under the table. He brought out a plate of white chocolate dipped strawberries and chocolate chip croissants, along with warm coffee drinks, and bid us farewell. I thanked him for his service and he left us alone. I fed Kelly a strawberry, then asked her to join me on the couch.

I brought dessert to the coffee table, along with our drinks and told her to take off her shoes and sit back and relax. I put her feet in my lap and began to massage them. After a few minutes, I picked up my television remote and turned the TV on. I cued the DVD player and told Kelly I had selected a movie for us to watch - An American in Paris. She had seen the movie before (I knew it was one of her favorites), but was excited to watch it again. She settled back and I settled next to her, wrapping my arm behind her back.

When the movie was over we ate some more dessert and Kelly taught me a few words in French. Listening to her speak French was really a turn on, but I had to show some restraint as I had one last gift for her, which I slyly pulled out from behind one of the couch pillows. She unwrapped the small package, opened the box, and gasped at the diamond earrings I had gotten her. She flung her arms around me and told me the evening could not have been any better had we actually been in Paris. I brought the most romantic city to her and for that she said Merci Beaucoup.

Kelly and I look back fondly on that Valentine's Day and rate it as one of our very best dates. In fact, I think it was a turning point in our relationship. You see, Kelly is now my wife, but that's another story.
Related Categories
Back