Mardi Gras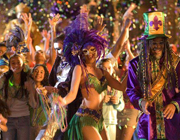 This year's company picnic was the best yet. We usually have an ordinary get together at a park or restaurant, but this time the bosses went all out and organized a Mardi Gras themed party.

It took place in the office parking lot. Several tents were brought in and set up. Each tented area contained food or entertainment. Purple, gold, and green – the official colors of Mardi Gras – were the colors of the balloons, crepe-paper streamers, flamboyant masks, and beads. These decorations were everywhere, transforming a dull, plain lot into a colorful piece of the Big Easy during Mardi Gras. There was a huge sign that welcomed us to "Fat Tuesday" and there were mock street signs for some of New Orleans' famous landmarks, like "Bourbon Street" and "The French Quarter." It was our very own street festival and all of the employees loved it.

Everyone had to attend dressed for Mardi Gras. There were lots of outlandish costumes with feathers, fringe, lots and lots of gaudy jewelry, and of course masks. The masks were sensational and ranged from ceramic wall masks to silk and metallic masks adorned with the flashiest feathers. I visited a thrift store and was able to put together a fabulously bright, lavish ensemble with beads, feathers and sequins. I embellished my inexpensive mask with glitter and ribbon. It was great fun dressing up and seeing everyone else out of their business attire and in something crazy.

In one of the tents a display of jazz instruments was set up for people to try. There were trumpets, trombones, drums, tambourines, and other musical devices for exploring, and a knowledgeable staff (two men) giving instruction, the history of, and demonstrations of, these and other instruments. The also had large books with beautiful color pictures of famous musicians and Dixieland bands.

That brings me to the next tent where there was a jazz band and dance floor. They played great Cajun, zydeco, and New Orleans jazz music for the entire evening. Their instruments included a fiddle, accordion and triangle. The sounds were loud and contagious and there was rarely an open spot for dancing. In fact, dancers spilled over onto the black top and even continued outside of the tent area. Mardi Gras is about dancing and we sure did a lot of it.

Another tent, larger than the others, was set with tables, chairs, and a huge buffet. The tables were simply set with metallic confetti sprinkled on the gold tablecloths. The folding chairs were covered with plain green or purple cotton slipcovers. It was a colorful set up, to say the least. The food was fantastic. It was a treat feasting on foods we don't normally eat. There was jambalaya, shrimp gumbo, rice, sweet potatoes, Cajun spiced chicken and swordfish, and sausages. The dishes were spicy so there were also plenty of beverages on hand. For dessert there was a traditional Mardi Gras cake, or King cake. It's a sweet pastry-like cake that's glazed with icing and sugar and has a plastic baby baked inside. I know, that sounds strange. But I guess that's what they do in New Orleans. The person who gets the slice of the cake with the baby inside is considered to have good luck for the coming year. It was indeed good luck on this night, as my friend got the lucky slice and was rewarded with a bonus check.

The last tent was for game playing. The bosses thought it would be a good idea to learn about Louisiana and it's cultures, people, and sights. It was really fun and I enjoyed participating in a question and answer round robin. The information we were quizzed on included: "Fast Facts," one word answers to questions like Capital, State Bird, State Flower, Largest City; "The People," questions about Creoles, Cajuns, and Native Americans; "Seeing the Sights," questions about Louisiana's rivers and bayous, towns, forests, national parks, and of course, New Orleans itself. Prizes were awarded at the end of each round and included gift certificates to restaurants, baskets filled with all the fixings for a Cajun meal, and music CD's by famous Louisianans like Louis Armstrong, Jerry Lee Lewis, and Hank Williams Jr. There was also a raffle. Tickets were sold one for $10.00 or three for $20.00. The prize was a trip to, you guessed it, New Orleans.

We all stayed into the wee of hours of the night, eating, dancing, talking, and enjoying some camaraderie outside of the office. The party was a perfect boost to get everyone on more friendly terms and allowed us to let our hair down. Spouses got to meet other spouses and work associates, and we were all impressed and thankful for the event.

The next day at work (we had the weekend to recover) everyone seemed a little happier, a little more friendly, and a little more willing to get down to business. The Mardi Gras company picnic was a huge success!
Related Categories
Back