Japan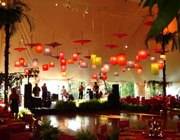 I don't know anyone who doesn't dread those all-black "Over the Hill" parties people sometimes throw for those turning forty. I just knew my husband Keith would hate something so tacky so, I opted for something more lively and exciting.

I had already decided sushi was definately on the party menu, but I thought it would be fantastic to have a Japanese theme for his fortieth birthday party. I went all out to create a fantastic party.

I found some beautiful Japanese art note cards to use as invitations. On the cover was a blooming cherry tree and a white crane sitting on one of the branches. Cranes are a Japanese symbol of long life. Inside were the details of location, date and time.

I am not creative in any way so I was concerned about decorating until I found out our favorite Japanese restaurant had a banquet room. I asked them if they could bring in a low table and pillows to make the room look a little more traditional. The owner loved the idea and said for only a little more he would take care of everything.

On the night of the party the low table was set with black china and there were plump pillows on the floor. Several gorgeous oriental screens were placed in the corners and a globe paper lantern hung over the table. The decor had the air of simple elegance Keith and I so adored. I found myself wishing I had told our guests to wear kimonos.

We had every kind of sushi under the sun, California rolls, spicy tuna, and salmon for appitizers. It was fun watching some people trying it for the first time.The sushi was incredible, so fresh and delicious. Everyone loved it. Dinner was teryaki chicken, steak or grilled fish with rice and steamed vegetables. It all was delicious. Guests had a choice of iced tea, beer, or wine, but since it was his birthday, Keith ordered some sake. There were also bottles of dry white wines.

Keith's parents tried to use their chop sticks to eat with, but eventually gave up. Mom kept laughing as she dropped each piece of teryaki chicken back onto her plate I took some photos of her and some of the others playing with their food.

Dessert was a choice of green tea or ginger ice cream. I had never had either so Kieth ordered the green tea and I ordered the ginger. Both were delicious.

Next came the entertainment, a group of dancers were performing at the restaurant and they came into our banquet room and did an authentic Japanese dance. Their costumes and make-up were really beautiful. I felt as if we were actually in Japan, and not just in a
Japanese restaurant. Everyone applauded when they were finished. Keith's dad suggested that we get up and get try to learn a few steps. At first I thought they might be embarrassed by so many tipsy Americans coming up to them, but the dancers really got into teaching us. We even learned a few steps.

Everyone had a great time especially Kieth. He told me he had been dreading his fortieth birthday party. He smiled and said, "But it wasn't so bad." In fact, he said would be all right with him if we did it again next year.
Related Categories
Back