Horror Movies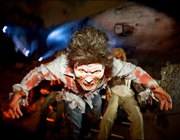 I went to this incredible Halloween party it was everything a Halloween party should be.

The invitation was a postcard with a picture of Bella Legosi as Count Dracula. On the back was the location, date and time. Below that was instructions to come dressed as your favorite horror movie star. I wanted to choose something unique, I was sure there would be plenty of other girls coming as the bride of Frankenstein. I decided I would go as Carrie. I bought some white satin at the fabric store and made the prom dress she wore. I bought a wig of long straight hair and some fake blood.

There was already a variety of people there when I arrived at Steve's house. Within the first five minuted I had spotted two Brides of Frankenstein. They looked great and one of them was my friend, Judy. She screamed with excitement when she saw me. She loved my costume.

Steve was dressed as Freddie Kruger and flirted with me as he showed me around his house. The place looked great though the decorations were not elaborate. There were movie posters from classic and contemporary horor movies taped up on the walls. Fake spider web was strung throughout the house. He also covered all his furniture with black cloth. I stood next to the "Carrie" movie and Steve took a picture. He told everyone jokingly not to upset me or I might burn the house down with my telekinetic powers.

In the den, an 16mm projector played black and white silent horror films. Soundtracks from classic horor movies were playing on a player organ in the corner. The only lights were replaced blue party bulbs and black lights. A dozen chairs were set up in front of the screen and draped individually in black velveteen.

The food was in the living room on a large round table draped in red velveteen. There was a large crystal ball with trays of egg rolls, mini pizzas, mini sandwiches, and mini quiches around it. There was also bowls of chips, dips and, of course candy. Steve had also made blood-red cranberry gelatin shots that had vodka in them. There also was a chocolate, bat shaped cake with chocolate frosting. The cake had raspberry filing which looked like blood when the cake was cut. It was a little sick, but tasty.

An old,western-style, portable bar was set up in the dining room. It was decorated with posters of classic horror movies, like The Mummy and The Phantom of the Opera. The bar had everything. I loved the ruby red port wine he served in small wine glasses.

Steve's friend, Billy, was taking pictures outside. He and Steve had made a fake grave yard in the back yard. They had made head stones out of styrofoam and Billy was taking photos of the guests posing in the grave yard. Everyone took turns posing either alone or in groups and everyone would get their pictures in the mail a week after the party. Steve and I posed for a picture together as Freddie and Carrie. What a perfect couple!
Related Categories
Back