Fantasy Wrestling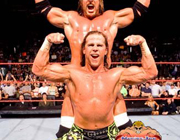 Jim loves wrestling. He'd been saying since he was in high school that he wanted to become a professional wrestler, but he never really took it seriously. However, one of our friends found out about this new training school here in L.A. owned by Ric "The Equalizer" Drasin. You can spend the weekend learning the ins and outs of wrestling, taking it seriously or just for fun.

Jim's twenty-first birthday was coming up, so we pitched in to get him a session. We also decided to throw him a wrestling party. Of course, we had to take him to see female mud wrestling. We bought him a round in the ring. Messy, but classic. In two seconds, the girl pinned him. I had to have that in film. So I snapped a Picture with my telephoto lens. I wonder if he let that happen on purpose or if the girl really was better than him. Other guys in the audience were egging him on, wishing they could be in his place.

And, he had to have his first legal drink at a bar. We took care of that, too. He had a mudslide to celebrate his first match in the ring.

But this was the best part. Ric Drasin happens to be a cool guy. We asked him to come to the bar and deliver an invitation to his wrestling camp personally and he agreed! The Equalizer, in uniform, came into the bar. He stomped up to Jim, picked him up by the shirt, and growled at him. Jim was going to pee his pants! But he was happy! The Equalizer told him about the training weekend we were sending him to and that he expected Jim to bust his butt while he was there. He said Jim looked like he might make it in professional wrestling, which is true. Jim's not a small guy.

The Equalizer left after signing a few autographs and saying happy birthday to Jim. I thought that maybe Jim was too drunk to really understand what just happened. He sat there for several minutes with a big, dumb smile on his face and holding his shirt collar. Then, he said: "The Equalizer is going to whip my ass." He started to laugh. He was totally excited about the camp.

We got Jim home, safe and sound. He invited me in to talk some more and we drank a bottle of wine he had been saving for a special occasion. There was still some mud in his hair, but he didn't care. He was on cloud nine. He was going to spend the weekend with The Equalizer and find out if he had what it took to be a professional wrestler. I joked with him and said: "Just stay away from the girls." You couldn't wipe the smile from Jim's face if you had a power sander.

What we didn't tell Jim was that, at the end of the weekend, he would get all dressed up in professional wrestling gear, including a championship belt and he'd make a ten minute video to take home and to show his friends, or to show to the AWF, WCW, or the WWF to try to get a job. We saw the video. It was very professional. Authentic. And none of us were surprised when Jim said that he was going to continue to train. Ric Drasin is going to be his personal trainer. He'll never forget this birthday.
Related Categories
Back