American Revolution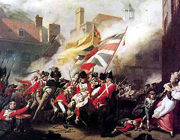 My sister, Glenda, and I threw a great party for grandpa, Joe on his eightieth birthday. It was such a success, I want to share it with you.

My grandpa is a history buff. I think he knows every important date there is, but his specialty is the Revolutionary War. Just get him started and he'll go on for hours about it as if he had actually been there. So, Glenda and I knew 1776 ball would be the perfect way to celebrate his birthday.

On the cover of the invitations was a picture of George Washington. The party details of location, date and time were written inside. Glenda added the line: "Please RSVP, and be prepared to change into costume." below. All twelve of the guests would arrive at 2:00pm, but grandpa Joe and grandma Esther would not get there until 5:00pm so everyone would have plenty of time to put on costumes and make-up.

On the day of the party Glenda and her husband, Roland, and I moved lots of furniture into the garage. Glenda and I draped the 10 yards of light gold fabric I purchased at the yardage store around the doorways and windows. Every modern picture was replaced with period prints framed in some antique frames Roland had found in his mother's attic. Glenda made the ceiling lamp hanging in the dining room look more like a chandelier by draping strands of faceted clear acrylic beads over it. I coudn't believe how the beads sparkled just like crystal. Since Roland has a truck Glenda and I sent him to pick up the benches and folding chairs I rented from the party rental store.

The photographer Glenda hired set up in a corner of the living room. He hung authentic backdrops and set an artificial stone bench in front of it. He was going to take black and white portraits of the guests in their beautiful costumes. Cameras hadn't been invented in the late 1700's, but this was a party we wanted to remember. The costumer and make-up artist arrived. The master bedroom was reserved for the girls to change in and the spare bedroom was for the guys.

The guests arrived and I served wine and other drinks while the lords and ladies picked out their costumes and tried them on. When each was satisfied with his or her costume, the make-up artist worked her magic powdering wigs and faces. Everyone looked fabulous! I barely recognized myself in a tight bodice and hoop skirt. Everyone had a great time just getting ready.

Then grandpa and grandma were amazed to see everyone in costume and make-up and how we had decorated Glenda's house. Grandpa kept on saying, "You kids...." The costumer and make-up girl soon transformed them into George and Martha Washington. Grandpa looked dashing in the general's blue coat and white breeches.

Everyone danced to the waltz music playing on the stereo. I danced with my cousin, Betty, because there weren't enough men, but it was a lot of fun.

Everyone sat down for dinner an hour later. Roland and I put three card tables together to make one big one. The crisp white white tablecloth really set off the red roses in three crystal vases. The meal was served on Glenda's good silver. Glenda had bought white and red wine so everyone was happy. Dinner was roast beef, green beans and mashed potatoes and was typical early American fare. Everything was delicious. Dessert was a sheet cake decorated with the colonial American flag. "Happy Birthday General Joe," was written in blue gel icing below the flag. The cake was grandpa's favorite -- vanilla with strawberry filling.

After dinner, we all danced some more and each had our portraits taken by the photographer. Everyone had a great time including grandpa. I've never seen him so alive!

Everyone recieve their portraits in the mail about a week later as a memento of that special night.
Related Categories
Back