1900s Circus Graduation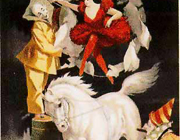 My high school organizes a party every year for the senior class. These parties are a way for the seniors to get together and celebrate in a safe and fun way. At the end of May I saw some old-fashioned circus posters around campus and when I took a look I saw they were the fliers for my senior year grad-night. I thought the idea of a "1900's Circus" was a little hokey, but the mom of one of my friends was on the planning committee and told me how cool it was going to be so I just had to go.

The first indication anyone had this was going to be an all out party was when right after the graduation ceremony. A crew started setting up the vintage 1900's big top right on the football field! The flier mentioned costumes were encouraged so I decided to rent a Victorian outfit for the occasion. I was surprised how elegant I looked in something so last century.

By the time I returned to the school, the football field had been transformed into a "1900's Circus". Only about half of the people I saw were in costume so I felt a little self-conscious walking around. There was a band playing marching music and I was amazed to see an elephant ride set up next to the circus tent. Inside were three circus rings filled with sawdust and a row of metal bleachers along one side. There were food carts with popcorn, peanuts and cotton candy for the guests, I was hungry, but luckily I noticed a line was forming at the buffet table on the other side of the tent. As I crossed the tent I saw a wire strung between the two giant support poles high above the floor.

The food was great. There were French dip sandwiches, fried chicken, French fries, potato salad and apple pie ala mode for dessert.

After dinner, the show started. I couldn't believe my eyes. There were jugglers, acrobats, magicians and even an adorable trained animal act with miniature pinto horses and black and white border collies. The best was the high wire unicyclist. All the things he balanced on his head while riding across that narrow wire amazed everyone.

During the intermission, Alex, the class valedictorian--I thought he looked pretty handsome in his ringmaster costume--took a microphone and read the names of those voted by our class: "Most Popular", "The Biggest Flirt", "Most Likely to Succeed" and many other categories both serious and funny. I was voted "Most Likely to Marry before Graduating from College". Each of the honorees came up on stage to receive a printed certificate and made a little acceptance speech. I decided to take it as a joke considering I didn't even have a boyfriend at the time.

After intermission a Cirque de Soleil-style troupe performed. They did some amazing acrobatics and the fire-eater was spectacular. It was a real treat! When the show was over the guests mingled with some of the performers. I had brought my yearbook and was busy getting signatures from classmates when Alex came over. I was sure he didn't know who I was, but he apologized for the "Pre-College Graduation Marriage" thing and told me he liked my dress. We chatted for a while about the party, college plans, and our love of border collies. He even signed my yearbook, "Do you think it is fate we met on the last night of our senior year? I do. I think you look great in your costume. I hope I see you at the lake or the movies this summer." He scribbled his name and wrote his phone number beneath it. I was on cloud nine the rest of the evening. That night I really didn't believe we would ever get together, but we did and we still are.
Related Categories
Back