Weekend at the Spa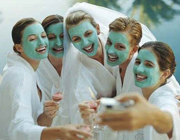 My girlfriends threw me the greatest bachelorette party!

On a Friday, just before I left work my best friend, Terrie, showed up at my office. She said I had to come with her and I had no choice.

We got into her car and she drove out of town. A couple hours later we arrived at an exotic spa nestled in a beautiful forest. A valet took her car and a gorgeous man in white jeans and a tank top took two bags out of the trunk. I recognized one of the bags from my closet at home!

The gorgeous man carried the bags and led Terrie and I into the spacious, breezy lobby where Terrie checked us in. The man behind desk smiled and said, "Congratulations". I still had no idea what was going on.

Terrie took me up to the penthouse suite! Four of my other girlfriends there, chatting away lounging in cotton velour robes, sipping champagne and dipping their toes into the HOT TUB right in the middle of the suite!

The yell of, "Surprise!" wasn't necessary. I was already in a state of disbelief. Terrie sounded like she was reading from a brochure when she told me we were staying at the resort for the next two nights and three days. The Spa resort offered mud baths, massages, manicures, pedicures, exfoliations, yoga lessons, just about anything I could ever imagine. The six of us were going to be pampered and spoiled all weekend. Just us, no men except the perfect specimens serving us.

The next morning we all agreed to take our mud baths. The attendant told us the mud was actually white clay and it was warmed by a natural hot spring. While we were enjoying our mud baths the staff photographer came by to take pictures of us with just our heads sticking out of the mud.

After that Terri and I pampered ourselves by getting massages from two gorgeous Swedish massuers. The rest of the girls went to the salon to get facials and skin treatments.

Everyone met up for lunch at the little Parisian-style cafe. Everything on the menue was health-conciously prepared and delicious. There was an indoor dining area as well as a beautiful terrace that overlooked a small forested ravine with a creek at the bottom. We sat for hours after the meal sipping coffee or tea, chatting and listening to the sound of the water.

By the end of the weekend, my hair was shiny, my skin glowed, my nails looked so healthy, my body was cleansed inside and out. I felt renewed. All the creams, gels, oils and treatments put on or in our bodies were completely natural. They made every product they used on the premises from herbs, spices, fruits, vegetables and minerals. Each of us received a gift basket of samples to take home. It was like taking a little bit of heaven home with me. The best part of the weekend was spending it with my friends. Far from the stresses of our ordinary lives we all relaxed and became a lot closer. It was also a lot fun being treated like goddesses.

Even weeks after the trip, my fiancée said I seemed more relaxed. I told him that I wanted to go there for our honeymoon and he liked the idea.
Related Categories
Back