Mardi Gras Graduation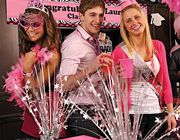 Every year my high school organizes a party for the senior class so they will celebrate graduation in a safe and fun way. This year's theme was the world-famous, wild and glamorous street party of New Orleans: Mardi Gras. It was so much fun!

All the parents of the senior class members pitched in and turned our school quad into a Mardi Gras street fair. The props were spectacular; colorfully painted plywood cutouts of grinning jeweled masks, and dancing or juggling harlequins. A band was playing Dixieland jazz. Tents were set up around the quad perimeter with tables of food of all kinds—French dip sandwiches, jambalaya, gumbo, Cajun style seafood and chicken. Everything was so delicious. For dessert there was traditional rum cakes, Crème Brule, cream puffs and fruit tarts. Everything tasted so good I made a real pig of myself.

There were strolling costumed performers of all kinds: Jugglers, clowns, and fire- eaters.
Carnival rides had been set up in the school parking lot. My friend Beth and I rode one called the Zipper and we nearly screamed our heads off. There was also a small [3055:Ferris wheel, a fun house and a bungee jump platform. Beth and I had fun watching our classmates diving off the scaffold, but we couldn't get up the courage to do it ourselves. So we danced to the band playing rock music instead.

Later everyone assembled in the quad while John the class valedictorian, took a microphone and read the names of those voted by our class: "Most Popular", "The Biggest Flirt", "Most Likely to Succeed" and many other categories both serious and funny. Beth was voted, "Most Likely to Marry A Millionaire". Each of the honorees came up on stage to receive a printed certificate and made a little acceptance speech. She decided to take the whole thing as a joke.

After the awards the performers, Dixieland band formed a parade and marched around the perimeter of the quad throwing strings of colorful plastic beads and miniature plastic harlequin dolls into the crowd. Everyone had a great time snatching up as many favors as they could. There were also some special favors mixed in with the other stuff. I found a bracelet of aurora borealis crystal and Beth found a mini-Champaign bottle of bubbles.

When the parade was over Beth and I went back to the parking lot to run through the fun house and ride the Zipper again. We had fun chatting with our classmates, signing yearbooks and dancing. It was the best night of my life.






Related Categories
Back