Magic Tricks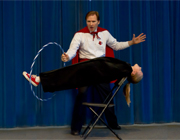 My son, Ronald, went to his friend Kieth's tenth birthday party. Ronald had so much fun he told me all about it The party sounded so great I thought I'd pass it along.

Keith's mother called me a few weeks before his birthday and said that for the party all of the boys needed to learn a simple magic trick he would first perform in front of the other guests then teach to them. She said to be sure and get enough props for every boy if the trick required them. Ronald decided he wanted to learn a card trick.

We went to a magic shop and looked around for a book on card tricks. We were about to purchase one when the owner struck up a conversation with Ronald. The man said his grandson is Ronald's age and also liked card tricks. He took Ronald aside and taught him not one, but three card tricks.

Ronald practiced and practiced. He got very good. He did the tricks for me and his father. His younger sister was so in awe and she kept begging him to teach her. He said, "A good magician never reveals his secrets."

Tables and chairs, at the party, were set up on the lawn to facing the deck, which was be ing used as a stage. First came the usual party activites of Twister, breaking open a piñata and blowing giant bubbles with large bubble makers. After the cake and ice cream Keith opened his presents.

After that the party really became fun. Each boy went up on stage and performed his
magic trick. Ronald told me he thought they were all good. Ronald picked his favorite card trick, of the three he knew, and performed it. All of the kids were amazed. They boys not only enjoyed performing for their friends, but they loved to learn from each other. Keith's mother commented to me later that Ronald seemed like a natural. Maybe Keith and Ronald would become stage magicians and perform together as a team. A photographer took pictures of each boy on the stage. A week later, when I saw the picture of Ronald doing his trick, I realized Kieth's mother wasn't exaggerating; he IS a natural!

A professional magician came out and did some more elaborate tricks for his young audience. He was all Ronald talked about him for weeks and he still mentions his amazing tricks from time to time.

The boys took home a bag of props for all of the magic tricks they had learned that day, including some the professional did for them. That night, Ronald performed all of the tricks, putting on his own show in the living room. He really has a knack for it. I don't know if we would ever had known if Ronald hadn't gone to Keith's magic birthday party. Ronald and the other boys had a wonderful time that will last in their minds for a long time. It sparked their creativity, their desire to learn, teach and work together.
Related Categories
Back