Lost in Space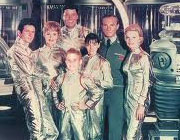 It was Kyle's Bar Mitzvah last week and it was great!

I arrived at the banquet hall at the same time the kids did. They filed out of the bus that picked them up from school. Kyle was in the lead. He was very excited. I knew why, too. I received my invitation in the mail a couple of weeks before. It was a picture of the old TV show, "Lost In Space". It was Kyle's favorite show and he loved the movie that came out last year. My sister, Sheila, decided to celebrate his Bar Mitzvah with a "Lost In Space" theme.

The tables were covered with silver tablecloths. In the center of each table were glass bubble candle holders with silver candles inside. the original Robbie the Robot stood on one side of the stage and the new Robbie the Robot stood on the other side. They had lights blinking all over and were six feet tall! Silver streamers and balloons decorated the hall magnificently. A photographer took pictures of guests standing beside either Robot.

The snack buffet had chips, dips, deviled eggs, pretzels and bagles and cream cheese. The live band was dressed as the characters from "Lost in Space". The lead singer even looked like Doctor Smith. The kids loved them. Kyle danced with Sarah, a girl from school he has a crush on. The adults talked and some even danced when the band played a song they recognzed.

After the Aliea La Tora ceremony, we all watched a home video of Kyle and his friends doing an hysterical "Lost In Space" episode. The costumes Sheila made out of tin foil and sheets looked quite good. The plot even had Grandpa laughing. Kyle and his friends came up on stage and took a bow after the tape was over. I think they all enjoyed the attention.

After grandpa performed the Hamotze, we had soup and salad. There was so many kinds of
wine and other drinks, it was hard to decide. The kids played musical chairs with the band's help. After that, they started a rowdy game of tag. The main course for the adults was a choice of roast pheasant or grilled salmon. I the salmon was served with dill sauce and was excellent!

Kyle's thank you speech was very sweet. He especially thanked his mom, Sheila, for making his Bar Mitzvah so much fun. Tears welled up in Sheila's eyes up and she kissed him on the head when he came back to the table.

Next came the Candle Lighting ceremony. The thirteen candles were lit by thirteen people chosen ahead of time. My husband, Harvey, was one of them. I took some pictures of the event. Each guest said something nice to Kyle after lighting a candle. Harvey was so nervous, he stumbled over a couple of words, but Kyle smiled at him and nodded his head graciously.

The band played some oldies and everyone got up and danced. Even the kids enjoyed them. Harvey and I danced for almost an hour without getting tired and we haven't done that in years. Everyone laughed when Kyle got up on stage and danced with Robbie the Robot.

Sheila and Joseph said their thank-yous to all the guests and a superb tiramisu was served for dessert before everyone went home. I l enjoyed every bite of all three pieces I ate. It was so good just couldn't stop myself.

After dessert, we all stood in a circle around Kyle and said something nice about him. It started out humorous when grandpa said, "Kyle who?" It was a lovely evening and everyone had a great time. It was really nice to see a boy so excited about his Bar Mitzvah!
Related Categories
Back