Labor Day Luau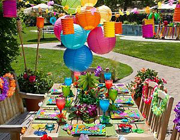 Every Labor Day, good friends of ours host a luau in their backyard. It is a hang-loose party where kids can swim in the pool, run around barefoot, or enjoy the warm summer air, while parents can relax and talk, visit the bar, have a drink with an umbrella in it, or make a splash themselves. Our friends have perfected this party theme and I'd love to share the details with you.

Appropriate attire is a must so everyone comes dressed accordingly. The group of guests are quite a sight in their grass skirts, halter tops, Hawaiian shirts, sarongs, colorful leis, shell necklaces and bare feet. We are but a small part of the luau backdrop, as the backyard truly is a tropical paradise (or at least decorated like one).

Friends are greeted at the backyard gate with a Hawaiian lei and kiss on each cheek. When the backyard comes into full view, it is a colorful site. There are inflatable palm trees everywhere. Fishnets covered with plastic crabs, lobsters and fish are hanging from the overhang and stucco exterior. Tiki torches are alight around the perimeter of the festivities. Garlands of seashells are strung around chairs and benches. A volcano (hand-made by our friends with wire and burlap) that stands five feet tall is off to the side of the swimming pool and spouts bubbles with the help of a bubble blower. And several round dining tables are decorated with hula skirt skirts and large round fishbowls filled with goldfish as centerpieces. The fishbowls are later given as gifts to guests.

Best of all, however, is the "beach" – a large patio area covered with sand. Not just a little sand, but enough to warrant sand castle creations. I know this because a large poster board sign above the area reads "Build A Sand Castle." There are small tubs of water, shovels, rakes and beach buckets available for assistance in building, and after each castle is built, a picture is taken before it is demolished. There are plenty of folding beach chairs available for relaxing at the "beach" and watching the play in the sand.

It's important to come hungry to this party because an authentic Hawaiian luau buffet is served. The buffet table is unbelievably large. It is beautifully arranged with vases of fresh flowers placed sporadically between platters of food. There is something for everybody including: roast pork, teriyaki chicken skewers, grilled fish, fresh fruit that includes pineapple, strawberries, melons and papaya, white rice, sweet potatoes and Hawaiian sweet bread. There are also bowls of macadamia nuts and fresh coconut. If anyone is hungry for dessert, (there's always room, isn't there?) another table is set with chocolate dipped bananas, cookies, coconut cream pie and a hula girl cake. My friend makes the cake herself baking the cake mixture in a large glass bowl. She removes the cake and leaves it upside down with the larger end on the bottom. After it cools she frosts it and lays green fruit leather all around to make the grass hula skirt. She uses a dark haired Barbie, or other doll (you can find small hula girl dolls at party stores) and gently pushes her into the top of the cake up to her waist. It is an eye-catching treat.

While everyone is eating, a show is put on. Hired hula dancers make an entrance to traditional Hawaiian music and begin a dance. It is enjoyed by all and when they are finished they ask for volunteers to join them. Men and women, boys and girls, anyone can volunteer. Grass skirts are wrapped around their waists, leis put around their necks, and instruction in the hukilau given. The hukilau song is cued and hand gestures and hip movements are taught. For weeks after the luau, we are singing the hukilau song ("Oh we're going, to a hukilau… a huki huki, huki, huki, hukilau…") in our head. It is a fond memory of a great holiday party.

After all this, there's still more. Dads give surfboard rides to the kids: A child sits on a surfboard and a dad at each end lifts it up and walks around the party giving a ride like a magic carpet. A limbo game is set up for older kids, and a contest to see who can bend the lowest takes place. And a relay race is played where guests have to layer Hawaiian shirts over themselves then run across the grass to meet a team mate who has to put the shirts on and run back across to the next team member. The fastest time wins.

Not a moment goes by when we aren't having fun and we're sorry to see the party end. A Labor Day luau is a great way to hang ten and end the summer with a wave of fun. Can you say Aloha?
Back