Countries and Cultures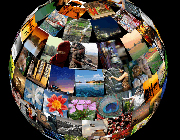 For my sister, Melanie's, fortieth birthday, her husband, Craig got together with some of her friends to discuss what to do. None of us could decide on one theme or a single type food or culture to choose with so we didn't; we threw her a "Cultures Around the World" party.

The invitations were very cute. It was a drawing of the world with a ring of people, in different ethnic costumes standing around the outside, holding hands. Inside were the details of the location, date, time. The guests were asked to come in the costume of their home country, bring a traditional dish that would feed at least twenty and items significant to their native people.

On the day of the party we set up at picnic site at a local park. A table was set up under the three tents and would be shared by representatives of two seperate ethnicities. A separate table would have, plates, cups, napkins and wicker baskets of utensils. We also put the condiments, beer, wine, soft drinks and water, on it as well.

Each tent was like a booth. Some of the guests really went all out and decorated their half elaborately. Melanie was amazed. The party was was outstanding! It was like a little fair. You could go to any booth and take as much or as little food as you wanted, while at the same time, you could learn something about the culture from which it came. The birthday cake had with the same drawing that was on the outside of the invitations re-created with frosting and little plastic dolls. I was glad we had hired a videographer to capture the event on tape.

Everything was a conversation piece. Not only was the party enjoyable, but it was educational as well. I took many pictures of everyone enjoying themselves and learning more about other cultures. Melanie's foreign friends had a great time and were impressed by how much everyone loved tasting new foods and learning about different cultures.

A group of American folk singers arrived and sang cowboy songs for us. I was too stuffed to move, but Melanie and some of the others danced with the folk dancing group who came to perform square dances.

Some of the guests gave Melanie the cultural items they had brought as gifts. Others gave her the homemade cook book they had compiled with all the recipes from all the ethnic dishes made for the party. Melanie loved it and thanked everyone for making her fortieth birthday such a memorable event. The tape from the party was edited into a documentary-style show. Craig did a great job narrating The video was just like a Discovery Channel show. We we sent the finished product out as thank you gifts to all of our guests.
Related Categories
Back