Trail Ride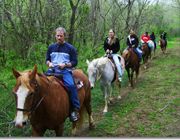 I was expecting, the boss would take the girls in our office to the Mexican restaurant across the street for lunch like usual on Secretary's day. I was intrigued by the invitation I received in the mail. It had a cartoon cowgirl on the cover with the words, "Come on y'all…" written in rope letters above the crown of her white cowboy hat. "Let's ride to the Watering Hole. Please come at 9AM to Amythistle Downs for trail ride and lunch at the Watering Hole" was printed inside. Below was written "Come dressed to ride." Exact details followed below. The date was the Saturday after Secretary's day.

I knew our boss rode and kept a horse at a ranch called Amythistle Downs and though I had never been riding before I thought it would be fun. I was so excited about the coming event I even went out and bought myself a pair of cowboy boots and a hat.

On Saturday, I showed up at the ranch a little early so I took a look around. There were several wooden barns, large arenas. Everything was neat and well kept. I found my boss leading his horse and he showed me to the rental barn. The rest of the girls had arrived and were getting their horses. Since I had never ridden before the attendant made sure the horse I rode was a gentle one. He said the little mare was called Coco because she was brown and sweet. I didn't have any trouble with her so I believe she was well named.

A guide led our group out the gate and onto the trail. We followed a bubbling creek through a wood, then over and through some hills. We had been riding for about thirty minutes when we came down a hill into the dirt parking lot behind The Watering Hole restaurant. The horses were tied to the hitching posts in the shade and watched over by the trail guide while we went inside for lunch and some margaritas. The Watering Hole was a quaint place with wood paneling and a tin roof. Lunch was great, mostly because we talked about the trail ride instead of work.

The trail guide took us back a different route that wound through the green hills and cottonwoods down to the creek bed. We walked our horses in the water following the creek back to the ranch. In thirty minutes we were back. We turned in our horses, thanking our boss for the ride and chatted with him for a while about his horse. All of us agreed this Secretary's day was the most memorable and that we were lucky to have such a great boss.

Back