Paper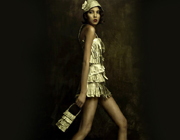 My friend Brenda and her husband, Mitchell, decided to have a celebration for their first anniversary. Instead of sharing the occasion privately, they wanted to have a party in their new house. I got an invitation in the mail. It was an accordion-folded, paper cut-out of a line of dolls all in a row. It was adorable.

I arrived at their house on their Anniversary Day at about 9:00pm. When they opened the door, I nearly burst out laughing. Brenda and Mitchell were dressed entirely in paper! (Paper is one of the first anniversary symbols.) It was actually amazing. Brenda had made an entire evening gown of paper. It looked like a flapper dress but instead of tassels it was tiny pieces of colored paper. Mitchell was wearing a tux made out of fabric paper. It was so soft. My amusement quickly turned to amazement at the details and effort that went into it all.

There were about twenty people at the party. Everyone was required to wear a paper hat, but the catch was that you had to make it yourself. I was handed a piece of paper. I wanted mine to be a little bit original. It seemed over half of the people there had the standard sailboat hat. But I remembered my origami lessons and made the only thing I could remember -- a swan. It didn't turn out as well as I thought it would, but it was still pretty good for an amateur. One guy, Steve, couldn't make a hat, so he just borrowed a paper clip and stuck his piece of paper to his hair. I drew a smiley face on it for him. I thought about writing my phone number on it, too, because he was really cute, but then I realized that everyone at the party would see it there.

The house looked great. For streamers they had strung more of the connected paper dolls like the invitations, as well as other shapes. There was a table with an array of finger foods and drinks. I helped myself to the cheese spread and crackers. The DJ played some dance music and people were all talking or dancing in the living room. They moved out all the furniture to make room for everyone.

Then we played a game. Alex, Mitchell's brother, video recorded the entire time. Each of the guests was led, one-by-one into the 'Sexy Chamber' and I was first. I have to tell you, I was reluctant to follow. I met Brenda less than one year ago in the office where she is known for her racy sense of humor. Not wanting to be a killjoy, I followed my paper-clad host to the 'Sexy Chamber' as the video camera zoomed in on my timid feet that didn't want to travel to an unfamiliar room.

The room was lit by candlelight. The walls were covered with long sheets of red paper, smouldering red paper. In the center of the room was a soft, pillowy chair and my host kindly said: "Welcome to the Sexy Chamber, please take a seat." I sat down and after a long, pregnant pause, he asked me to undress. He said: "We'd like you to undress only your left or right foot seductively for our video." I had to laugh. Then Mitchell said he'd wait outside of the room so that I wouldn't be inhibited.

As you can imagine, I loosened the straps of my sandals. When my naked foot was free it was stretching, moving and turning like I never knew was possible. Before I dressed my foot again and re-joined the party, Mitchell took a picture of my nude ped and I signed my name on the wall, "Thanks for a great time! Love ya, Cheryl".

I returned to the lively group that was drinking wine round a well- catered spread and listening to one of Brenda's colorful adventures rubbing elbows with the rich and famous.

After each of the guests had their time in the mysterious goings-on of the Sexy Chamber, it was announced that the sexiest foot among all of us would be revealed. Mitchell displayed the polaroid photos of 20 naked feet on the wall and we voted on which of us has the sexiest.

Then we played poker. And we kept our socks on, and everything else. We split up into teams of four or five, having about five games happening at once. We sat at card tables in the living room. The winner from each group would play in a final, 'Grand Championship' game.

We all played for hours until the five winners were ready to play the final game. Mitchell was one of them. Everyone watched, joking around, and having a great time while Alex made commentary on the video. In the end, Mitchell won the poker game. The prize was a kiss from Brenda, so it was a good thing Mitchell won. I think the game was fixed.

Mitchell and Brenda brought out a cake and we all toasted Champagne to the couple and their first year of marriage. We talked and danced some more until the late hours. Then everyone headed home. Steve wrote his phone number on his smiley face paper and gave it to me on his way out.

I had such a great time. I can't wait for their second anniversary or maybe they'll celebrate that one alone!
Related Categories
Back