Las Vegas Honeymoon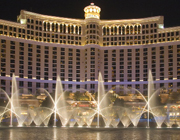 Trust me when I say that the real city "that never sleeps" is Las Vegas. Apologies to the Big Apple, but as casino dice I know this for a personal fact as I have been "high rollin'" in the desert since a Lucky Seven became lucky. So if you want to have some wild, crazy fun on your Honeymoon, go West young newlyweds. But you're going to need a few tips to navigate the nightlife properly, so pull up a stool and lend me your bride and groom ears.

The early bird gets to see all the worms in this city so find yourself a place at one of the fancy-schmancy bars on The Strip, order yourself a dry martini, and watch the parade go by. Personally, I'd check out a window seat beside Lake Bellagio and take in the dancing fountains as the evening strollers cross by. If you think the Vegas Showgirls can whip those legs and high-step it, you've got to see how these magical jets of water move to the music. It's truly amazing!

Now as Honeymooners, you're going to be running around on a post-wedding day high, but my suggestion to you is to try and relax, take a break from the honeymoon suite and sit yourself down to a five-star meal with all the trimmings. If you don't have time for the fancy stuff at Renoir in The Mirage (yes, that Renoir, better brush up on your Art History), then I highly suggest you cruise by the MGM Grand. They proudly present the ultimate in food courts with everything from steak to swordfish or Turf to Surf as I like to call it. With all these options, you won't waste travel time and you'll be done in time for any of the nightlife action, no problem.

Speaking of nightlife, every casino on The Strip is going to offer you entertainment beyond belief. Consequently your Vegas honeymoon vacation wouldn't be complete without catching one of these eye-popping stage shows that would make any special event coordinator's eyes burn with envy. Now these shows are meant to get the heart pumping, so don't be surprised or shocked when there's a little extra skin showing. As newlyweds you'll have to decide if want to see sky-high headdresses and sparkling chorus lines costumes or the wild and unique gymnastic offerings of Cirque du Soleil.

And the fun is hardly close to being over when the curtain comes down. After the showgirls take their bows, you and your better half should entertain being entertained at one of the many famous Vegas ultralounges. These places get my numbers spinning with blazing hip hop jams, rockin' DJs, an super-unique chic interior styling that'll baffle the imagination. My favorite is Tabu at the MGM Grand (see I told you that you didn't have to go far). This place is also the apex in ultimate celebrity sighting venues. On any give night you might see Pamela Anderson or Bruce Willis. Not to shabby for a couple of newlyweds out for a little honeymoon resort fun, huh?

Now, believe it or not, after dinner, a show, and cocktails at an ultralounge, the night's just beginning--like I said, Vegas is the real city that doesn't sleep. So where to next? How about one of the hottest, after-hours locations on The Strip? That would be dancing at Light, the high wattage club in Bellagio where you on any given night you might rub elbows with Brittany, Cher, or Sting. Word on the felt tables is that Paris Hilton celebrated her 21st birthday at Light and had her close friends, Ben Affleck and Matt Damon, help her blow out her birthday candles. Definitely a change of pace from "The Bride Cuts The Cake," huh? But, hey, that's what a honeymoon vacation is all about... special places, good times, and party-party-PARTAY!!! (The place opens about 10:30pm, but it really doesn't get cooking until well after midnight).

Remember The Real World Las Vegas? Well, a lot of those guys and gals loved to check out the club called Rain. Although there are a bunch of clubs that sport special event nights here and there, Rain is like a New Orleans' Mardi Gras every night. It is totally THE place for a magical honeymoon memory. Probably the best thing about Rain, besides the wild and crazy revelers, is the live concerts offered just about every month. No gravely voiced lounge lizards here, I'm talking Aerosmith, Kid Rock, and even No Doubt. Now be aware that you're not just going to walk in on these special events, you've got to plan ahead and get yourself tickets because the concerts are always, always sold out.

Well, I'd love to shake it up with you guys more, but the tables are calling. So it's adios to all you soon-to-be newly weds. Plan those honeymoon vacations as wisely as you plan your wedding day ceremony and get out there and roll 7's!
Related Categories
Back