Lake Tahoe Wedding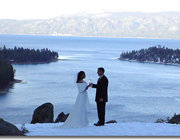 After our engagement, my fiancée, Rick and I decided we wanted a destination wedding, but had not decided on where. I searched the Internet and was impressed by some of the full service packages I found in the Caribbean and Hawaii. Since we were paying for the wedding ourselves, my fiancée was not as enthusiastic about the price quotes or how little was included in the packages I found. Neither was I upon my second look at them.

He searched on his own and found exactly what we were looking for in Lake Tahoe. Nestled in the peaks of the Sierra in California it is world famous for its breathtaking scenery. I thought he was crazy if he thought we could afford a wedding there, but even though we lived in New York the total cost (including airfare) compared favorably to some of the full service tropical destination wedding quotes I had received.

If we booked our wedding in the less busy season, December (Lake Tahoe is a year round resort so there is no off season) we could save even more. I was not sure I liked the idea of a winter wedding, but the delay would give our friends and family more time to plan and save money so they could attend.

Picking a location for the ceremony was difficult as there were so many to choose from. There were pictures on the site of the ceremony locations: A lush garden surrounded by tees, climbing vines and exotic flowers, or beneath a 1200 year old cedar tree surrounded Kentucky bluegrass, or beside a babbling brook in a forested alpine meadow, or next to a waterfall overlooking the world famous Emerald bay or a candlelight ceremony beside a romantic fireplace in their world famous country chapel built just after the turn of the 19th century. As I looked at each picture I tried to imagine what each might look like covered in snow. Though the view of Emerald bay was beautiful both Rick and I decided the chapel seemed the most romantic to us as well as complimented our Victorian theme.

On the day of the wedding a horse-drawn carriage picked the wedding party, both sets of parents and a few other wedding guests up at the lodge where we were staying and took us to the chapel. My bridesmaid, Marie and I used the chapel dressing room to put on our gowns. When we were ready, the wedding coordinator brought us our bouquets. Mine was a beautiful cascade of lavender roses, white roses touched with a blush of pale pink and sprigs of evergreen and ivy. Marie's bouquet was a mix of lavender, white roses, violets, ivy and a little holly for greenery.

Rick and his groomsman looked dashing in morning coats, ascots and top hats. As my father took my arm I saw my mother and my aunt waving at us for our attention so they could get a good picture of us. Once the music started we walked down the aisle with my bridesmaid following behind.

Thanks to the efforts of the wedding coordinator, the ceremony went perfectly. As a symbol of our unity Rick and I exchanged a pair of beautiful sculpted glass roses instead of the traditional lighting of a unity candle. After the photographer took some posed shots with the wedding party, family and guests as well as a close up of our hands and the wedding rings on them. He also took some nice candid ones of us, including the cutting the small wedding cake made by a local bakery. Lucky for Rick he didn't try to smash any cake in my face.

After the ceremony the horse-drawn carriage took us back to the lodge. We changed into less formal attire and met the rest of the wedding party, parents and guests for dinner in the lodge's restaurant. Everyone was talking about what a lovely wedding it was and how it would be hard to leave in the morning. Rick and I just smiled at each other knowing we were the only ones that did not have to get up and catch a plane. We had decided Lake Tahoe was not only a great place to have our wedding, but also to spend our Honeymoon.
Related Categories
Back