Game Show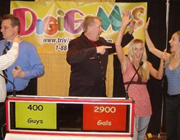 I just attended an event with a theme I had never seen before! When I got there I found they had hired an Event Producer to handle the event entertainment, and this year the theme was Game Shows. Just like the Game Shows I see on television it featured real Game Show Equipment and supplies to match all the popular shows I've seen on TV, and it even had a host, who was just as personable as Pat or Alex or Bob themselves and kept the show moving along with jokes, quips and that perfect toothy smile that makes the women in the audience swoon! There were even prizes and cash for those who can solve the puzzle!

It all started when I received an invitation in the mail hand written by a calligrapher with a riddle that I needed to solve to discover the details of the location, date and time. Pretty clever!

After I used my powers of deduction to solve the puzzle, I arrived at the event location, the whole place was lit from top to bottom in studio lights provided by a professional Sound and Lighting Company. There were tables set up with buzzers so we could buzz in when we wanted to take a guess at solving a puzzle. But first things first we were invited to eat a buffet style catered lunch with
Sub sandwiches, potato salad, macaroni salad, chips and dip, steaks, buffalo wings, and Chinese Stir Fry, Fried Rice and Noodles. There were sodas, coffee, iced-tea, punch, hot Jasmine tea as well as Sebastiani Wine and Corona Beer.

After lunch and chat with my co-workers the hostess whisked us to a room where we were briefed on the rules of the game. We even had a few practice rounds with the game show host himself to get our fingers and brains warmed up for the puzzle solving challenge. I really had to put my thinking cap on for this one!

Then the games started and it really was just like being transported into a TV Game Show, they even had a real announcer to start the show and the host introduced us to the audience and interviewed us so the other attendees of the event could get to know us just like the Game Shows you watch on TV!

My co-worker who loves trivia and always seems to know something about everything seemed to freeze under the lights, that fountain of knowledge seemingly run dry! I thought I wouldn't guess even a single question right but my team came in first place and my team-mates voted me the MVP!

I've never had so much fun using my head for something other than a place to hang my hat and the following week we received our tapes of the event courtesy of a professional video production company and I received my cash prize added into my paycheck courtesy of my boss who put this memorable event together!

I'll have to thank him by taking him out to dinner one of these days, but in the meantime I bought the home game, after all I don't want to give up my crown next year!
Related Categories
Back