By the Ocean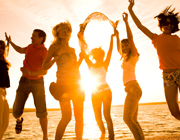 Wendy and I have been best friends from since we were in diapers. Wendy and my mom run a day care and we were always together. I guess that's why we are so close. Wendy's parents, Ken and Susan are great--they are like a second set of parents. They had just bought a house when Wendy turned sixteen so they didn't have a lot of money for her Sweet Sixteen party, but thanks to their creativity the celebration was fantastic and didn't cost very much.

We live a couple of hours from the beach, so we don't get to go there very often although we both love the ocean. Her parents reserved some picnic tables and a barbecue at the State park beach and spread the word through a phone tree Wendy's Sweet Sixteen birthday party was going to be at the ocean. The parents of the kids who wanted to go had to call and give their verbal consent to Ken and Susan.

They were really surprised when fifteen kids were coming. They worked out a carpool with some of the other parents and managed to get everything into two cars and a van. We managed to get on the road by eight in the morning.

During the ride the kids played games and sang songs to pass the time. The picnic tables and grills were on a grassy area away from the sand, but close to the parking lot, which was really great.

Everyone helped unpack the cars, but as soon as everything was unloaded most of us kids grabbed our swimsuits and headed for the changing rooms. A couple of the parents supervised us while we played in the water and made sandcastles. A few of the kids had brought some Frisbees, a Nerf football and a volleyball set. Of course, all of the parents had brought cameras and took lots of pictures of us having a good time.

While we enjoyed ourselves Susan, Ken and Viki were busy preparing lunch. Ken lit the barbecue and began grilling hot dogs and hamburgers while Susan and Viki set up one of the tables with condiments, and paper plates of lettuce and sliced onions and tomatoes. There also was potato, macaroni, and gelatin salad, potato chips, and chocolate cake for dessert. There were sodas and juice for the kids and the adults enjoyed a few beers or glasses of wine.

We were all starving by the time Susan called us to lunch. Everything tasted so good and we were all stuffed when it was time for cake. Susan had decorated the cake with colored icing to look like a beach scene and it was very cute.

More pictures were taken while Wendy opened her presents and she made some silly faces on purpose. One of her presents was a pump water rifle which she enjoyed using on everyone.

After lunch the parents challenged the kids to a game of volleyball and they won! To get even we challenged them to a Frisbee game and used our secret weapon--Spot, my black lab. He could catch any Frisbee thrown, even if it was ten feet in the air!

When it was too cold to swim, we brought out a boom box and danced on the grass until Wendy's parents told us it was time to pack up and go home.

All of the pictures were combined into a video montage to Wendy's favorite song and all the guests received a copy as a memento of Wendy's awesome Sweet Sixteen Beach party.
Related Categories
Back