Arabian Nights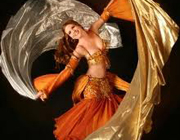 My boyfriend went to his brother's bachelor party and had such a great time, he told me all about it.

A few weeks before the party a pretty girl in a belly dancer's costume came to his door. She had out a cloth bag. She told him to reach inside and take out one colored piece of sheer material. An invitation with the party details was attached to the it. She told him if he lost the material he would be very sorry; then, she left.

Jeff called his brotherAlex of the guest of honor, and asked him why he'd be very sorry if he lost the material, but Alex wouldn't tell him. He just laughed at him and told him to be patient.

Jeff arrived at the hotel penthouse and was escorted in by a woman in a belly dancer's outfit into one of the bedrooms. There was a rack of Arabian costumes for him to chose from. He selected the richest looking outfit and got changed. His escort led him to a large cushion at a low table, with tons of food and drinks on it. His personal belly dancer fed him as he reclined on the cushion. He had plenty of film in his camera so he could take plenty of blackmail pictures of Frank.

As each guest arrived, picked out a costume and was led to the table by their personal belly dancer. The men were fed grapes, pieces of steak, a carrot sticks, anything they wanted while they waited for Frank, the guest of honor to arrive..

When Frank entered, all of the girls got up, surrounded him and took him into another room. They whisked him away so fast, he was unable to speak. The look of panic and joy on their buddy's face was priceless.

Frank emerged, dressed like a king, and the girls led him to the head of the table. The girls returned to their places and an eighth girl emerged. Jeff said she was the most beautiful of all the girls; a goddess. She wore nothing but layers of veils. He noticed that one of the veils exactly matched the color of the material he received before the party. The girl with the seven veils catered to Frank's every whim. She rubbed his shoulders, fed him, just like the other seven. The guys were beside themselves!

After they ate, Arabian musicians came in and played while the seven belly dancers performed for the men. And then, the grand finale. Frank's girl got up and performed the Dance of the Seven Veils, except she didn't remove the veils herself. Each guy had to have his matching piece of material or that veil wouldn't come off. Boy was Jeff relieved he had not left his at home. He had the last veil, and the girl was virtually naked with all of them off!

The guys went wild! Frank got the most attention. The girl went to him dancing, tempting him, and teasing him. The other guys were jealous, but not too badly because they all have girlfriends or wives.

Jeff said that all of the girls, the musicians, the food, everything was excellent and everyone behaved themselves. He said that Frank's future wife would be proud of Frank because he resisted temptation even when the nearly naked girl offered to give him a real massage. It would have been strictly professional, but said he would enjoy it more if his fiancée did it, so the girl gave him oils and candles to take home with him.


Note: Authentic bellydancers are not likely to strip and do a "dance of the seven veils". Please contact strippers for this type of service.
Related Categories
Back